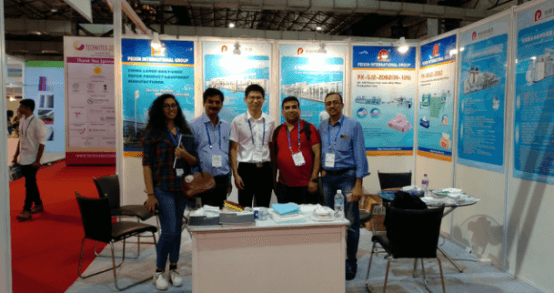 From Jun 28th to Jun 29th, the Techno Tex India Fair was held in Mumbai. As one of the most professional suppliers, PEIXIN Group became more and more famous. We were so glad that we had got great harvest. More and more people know about us and show great interest in our machines. And your support will be highly appreciated.
During the fair, because of our advanced technology, high-quality and best after-sales service, PEIXIN Machinery had attracted lots of customers all over the market. After our introducing the functions of our machine, analyst of the product and technological process, many customers praised the machines, especially our baby diapers machine. We did our best to answer all the questions clearly and carefully. All customers were satisfied with our service. 
Technical textiles are textile materials and products used for their technical performance and functional properties. Unlike conventional textiles used traditionally for clothing or furnishing, technical textiles are used basically on account of their specific physical and functional properties and mostly by other user industries and many institutional buyers.
Technical Textile Sector is one of the fastest growing segments of the Indian Economy. India has a share of 4-5% in the global Technical Textiles Market size across the twelve segments of Technical Textiles. This sector is expected to see a double digit growth in coming years. By 2020-21 the market size is expected to reach a market size of Rs. 2 lakh crores.
---
Post time: Mar-23-2020